Town Planning Submissions
Town Planning Submissions
At A1 Certifier, qualified project building certifiers, we provide a range of specialised Moreton Bay planning scheme services.
Our broad spectrum of experience enables us to handle a wide range of projects from private certifier Logan City to private certifier Brisbane, from development approval Brisbane to building certifiers Gold Coast, from the cost of house extensions Brisbane to the cost of building a deck Brisbane, ranging in both size and complexity.
Our expertise allows us to customise our services to your specific requirements and preferences.
Do I need a city planner?
Development can be a rewarding and exciting experience, but it can also be stressful and risky if you encounter complications during the process. Searching for city planning services and firms to determine if they are suitable for your project can be daunting. We, building certifiers Australia, will help you in:
Why choose the A1 Certifier?
We are one of Queensland's leading urban planning firms. We pride ourselves on the way we work and communicate with our clients. We will help you conceptualise, design and coordinate the implementation of your project. At A1 Certifier, we have spent many years assisting Queensland residents and businesses navigate through complex permitting processes and provide efficient and cost-effective project delivery. Our customised private planning process takes the stress out of your project, no matter the size. When you need council approval for deck Qld, A1 Certifier is ready to help no matter what.

We're a well-known building consultant in Queensland, and that's what we love to do – what we're known for – and what we do best.

Our range of town planning services include.
A1 Certifier supports clients throughout the development process.
What is included with my fee?
Building Certification Proposal
Ready to go? To get started we need
Signed agreement (refer attached owner consent and engagement confirmation)
Fees paid in full & receipt of payment sent to admin@a1certifier.com
Architectural Documentation inclusive of the following drawn by a suitably qualified person
APPROVAL PROCESS
Building Certification Proposal
Stage1
Quote & Assessment
Sign Agreement &
make payment
Administration & Assessment carried out by certifier/town planner
Certifier issues request for information (IR)
Stage2
Pending Approval
Send in requested docs from information request
Certifier assesses new information
Pending plans have been provided and are all correct
Plans approved & documents put together
Approval lodged with council & sent to applicant
Stage3
Approved & finalising
Building works can
commence
Notify When building works is complete & book required inspection
Provide forms, certificates & photos
Required inspections
carried out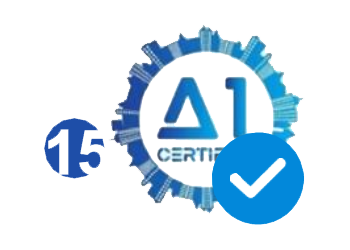 Certifier issues final approval
form 21 (17 if pool)

STILL HAVE QUESTIONS? CALL US ON 07 3446 5832
NEED ASSISTANCE ON YOUR NEXT DEVELOPMENT?
Call us to book an appointment on: