Commercial Fit Out Certifiers – Construction Certifications
Commercial fit-outs can be an expensive process. This is even more true if the design, building certification and safety measures are not done correctly. Therefore, a reliable shop fit-out and renovation building certifier should be one of your first considerations before a team of designers begins planning, designing, producing and installing the required structural alterations, fixtures and joinery.

A1 Certifier has built a reputation over the years for providing effective, timely and expert building certification and compliance consulting services to the commercial building sector.
Our experience and knowledge will help you navigate the essential building code process for future commercial construction sites.
Why do you need a building permit for a commercial fitout?
Building permits ensure the safety of a construction project's structure and are reviewed against the Australian Building Code and the Building and Plumbing (Queensland) Code. A licensed building certifier is responsible for verifying that the proposed work complies with the Building Act 1975.
Our building certification and consulting services include store facilities, shopping centres, warehouses, educational buildings, medical centres, assembly buildings, child care facilities, sewage treatment plants, apartment buildings, townhouses, aged care facilities, duplexes, historical buildings, office buildings etc
Experienced Construction Certifications
Our team of highly experienced certifiers is ready to assist you every step of the way, from concept to permitting, regardless of the extent or complexity of your residential building project.
What is included with my fee?
Building Certification Proposal
Ready to go? To get started we need
Signed agreement (refer attached owner consent and engagement confirmation)
Fees paid in full & receipt of payment sent to admin@a1certifier.com
Architectural Documentation inclusive of the following drawn by a suitably qualified person
APPROVAL PROCESS
Building Certification Proposal
Stage1
Quote & Assessment
Sign Agreement &
make payment
Administration & Assessment carried out by certifier/town planner
Certifier issues request for information (IR)
Stage2
Pending Approval
Send in requested docs from information request
Certifier assesses new information
Pending plans have been provided and are all correct
Plans approved & documents put together
Approval lodged with council & sent to applicant
Stage3
Approved & finalising
Building works can
commence
Notify When building works is complete & book required inspection
Provide forms, certificates & photos
Required inspections
carried out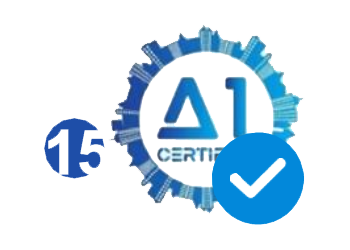 Certifier issues final approval
form 21 (17 if pool)

STILL HAVE QUESTIONS? CALL US ON 07 3446 5832
NEED ASSISTANCE ON YOUR NEXT DEVELOPMENT?
Call us to book an appointment on: